We used the learning channels inventory to help us determine our individual "learning style". Although we all have each channel, we have a preference or dominant channel.
Here's a quick overview of the three learning channels: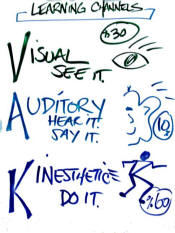 VISUAL
Visual learners take in information best with their eyes. They love to watch someone else do something before they try it themselves. They love color and are typically organized. Visuals often maintain a neat appearance will use visual language when they talk..."I see"...."Imagine"..."Look at this."
AUDITORY
Auditory learners use their ears to take in information. They love to listen to others and often like to talk a bit themselves. They need to talk with others to cement what they are learning and are easily distracted by noise in the learning environment. Auditory people use language like, "I hear what you're saying"..."Listen to me".
KINESTHETIC
These learners need to move their bodies to keep their brains fully functioning. Most kids in a classroom are highly kinesthetic and have a hard time sitting and listening for long periods of time. Use body shots and frequent state changes to keep them alert and to manage behavior. Kinesthetic people dress with comfort in mind (loose) and often use language like, "I feel tired"..."Can I try that?"
Quick Strategies for working with each learning style: